Professionally created and curated digital content for social media and websites. Turbo-charge your growth with content that makes search engines happy and readers even happier. Content marketing is one of the most important digital strategies - but is also the most neglected. We can help!

---
Book in a demo with one of our experts
We will call you for a demo of Cube Social and help you with your digital marketing.

We Respect Your Privacy - We Will Not Sell, Rent Or Spam Your Email.
Content Marketing
Our experienced team works with clients on content creation (comprising images, videos, graphic design and text copy) and content distribution (via social media, website content and email marketing). Our process is as follows;

Audit
Know what works. And why. An audit of your web content is essential in knowing what content is performing and what needs work.

Strategy
Take a strategic approach to your audience and content so your company can focus on steps to achieve tangible outcomes.

Design
We balance the technical aspects with creativity that makes your content pop, and your business stand out from the competition.

Implementation
The result is high performance content that's more likely to resonate with your customers and drive your business goals.
Content that's targeted, relevant, and engaging!
If you want more leads and customers, it's not a question of where to find them - the real question is, how do you create the right content that will inspire them to click or convert?
From blog posts to complete web content overhauls, we'll get your content where it needs to be to convert.
We also match your content to your market, for a range of audience types at intentions. From end-user services and goods, to business professionals and trades - we can reach out to your ideal targets with content they'll appreciate and understand.
Simply put, we'll copy write until your copy is right.
Creating winning content is important but time-consuming
We know how to write content that boosts your search engine rankings and will take the hassle out of your social media marketing and advertising efforts.
57% of marketers reported custom content was their top marketing priority
78% of consumers will trust you your brand if you create more customized content.
86% of highly effective organizations have someone in charge of content strategy
64% of B2B marketers outsource writing.
82% of marketers who blog see positive ROI from their inbound marketing.
Are you content with your content?
Need relevant content for your social media channels?
Cube Online can do this for you! We create custom content package over 3, 6, 9, or 12-month blocks for platforms such as Facebook, Google my Business, LinkedIn, and websites.
Find out more by booking a call with one of our team.

---
Book in strategy session with of our experts.
We will call you for a free no-obligation strategy session for your marketing content.

We Respect Your Privacy - We Will Not Sell, Rent Or Spam Your Email.
We will research and write blog articles for your company on topics which we identify as high-performing and large-volume searches.
We can also research and write Premium Content blogs (Medical, Legal, Finance, Real Estate)
For any content that is not a blog post we charge $180+GST per hour with a minimum upfront charge of 5 hours.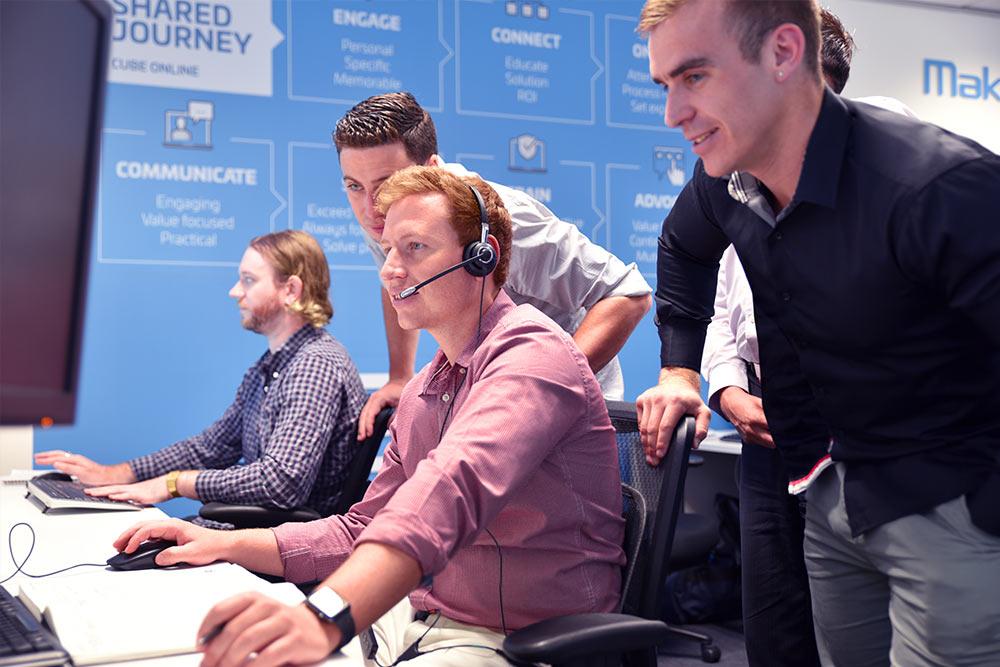 Get a team of marketing experts on
your team.
You don't need to hire your own team of full-time marketing experts to be number one. 
Local Digital Marketing Experts
To succeed online in 2021, you need an integrated digital marketing strategy
Cube Online provides the perfect combination of software and digital marketing expertise to generate reliable streams of new customers, and ensure your business is found and chosen above your competitors.







Chat to our locally-based team
There's no such thing as a dumb question, and our team is online now to answer any kind of questions you have.
We don't bite!

---
Get in touch with one of our digital experts
We will call you to arrange a free 30-minute strategy session or product demo with one of our digital marketing specialists.

We Respect Your Privacy - We Will Not Sell, Rent Or Spam Your Email.