Hi,
My name is Tony Van-Eyk and I am one of the co-founders of Cube Online. It is great to e-meet you.
I firstly wanted to thank you for choosing to partner with Cube Online at such an important time for your business. In this email, I want to share with you why we have created the Bricks to Clicks service and what you can expect moving forward.
The story behind "Bricks to Clicks" is certainly personal to me.
My dad runs a small butcher shop in Brisbane called Rocklea Meat Market. Like a lot of small business owners, he has been significantly impacted by the Coronavirus.
His business relies 100% on foot traffic. If the ability for people to visit his business in person stops, so does his business. This complicates his ability to provide for his staff and family.
This was certainly a wakeup call for my dad. He understood the need to both create a solution for the short term and also wanted to make sure he was future-proofing his business by ensuring he could serve his customers online.
This is where the idea of Bricks to Clicks was born. I am in a very fortunate position to be able to create both a short term and long-term solution for my dad. I have been able to take his company from a traditional brick and mortar business to a business that can serve his customers totally online.
Although it was great to create a solution for my dad, I also realised there would be a lot of businesses in the same situation. I want to help people who do not have the relevant resources, technical knowledge or time to implement this transition.
My team and I are passionate about helping you and all of our clients with this exciting transition from bricks and mortar to online.
Like any new process within a business, there may be, some initial teething challenges. However, you will be working one on one with a Digital Marketing and e-commerce specialist whose only job is to make certain we get the best possible results for your business.
I want to make sure from day 1 you look at this as a partnership. I want you to see our team as an extension of your business.
As the quote goes "Necessity is the mother of invention" and this is certainly the case with Bricks to Clicks. Although the circumstances this product originated from are less than ideal, I am really excited about all the new opportunities this has already opened up for our clients. I have no doubt it will do the same for you.
Tony Van-EykTony
Co-founder and Director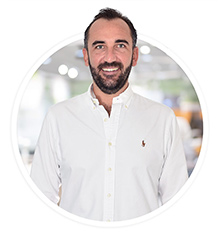 www.cubeonline.com.au
Customer Service: 1300423 618